There are times and places for large-scale formal rituals, and just as many times and places for casting a circle on the fly. But what about all those in-between times when you want to celebrate a Holy Day or a seasonal shift, and you have no idea where to begin?
Here are a few quick and easy ways to make your Samhain special and celebratory, without all the pressure!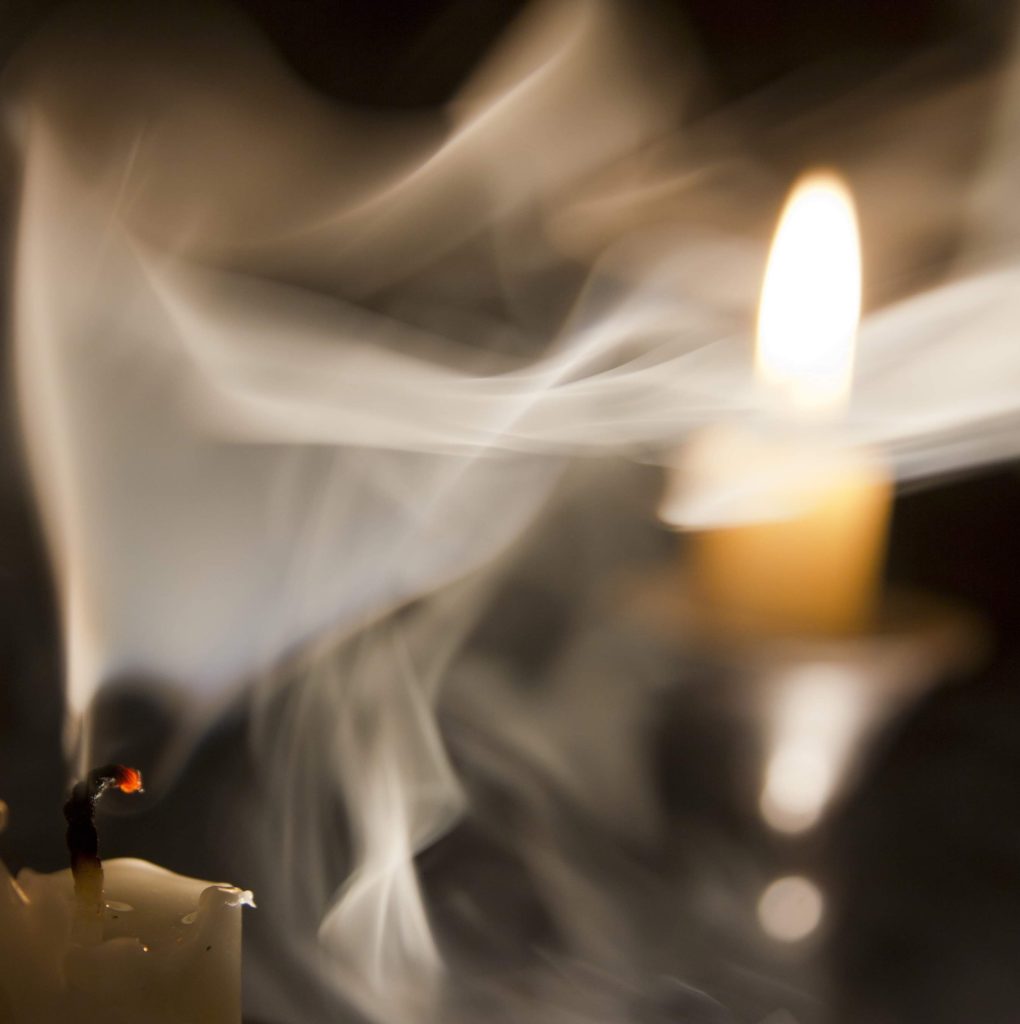 Start from where you are – This also goes for what you have. Samhain shouldn't be all about the pomp and circumstance if you don't have the energy and resources for that. And don't beat yourself up over not having those things. Life can sometimes come at us fast and hard, and it's just the way of our fast-paced world. Instead, give yourself some grace, and start from where you are, with what's currently on hand. Shop your house, and pick out a couple of key things that make you feel the holiday spirits, and go with that! Candles are always present in my house, for general as well as spiritual purposes, and sometimes I will swap their purpose entirely. I love scented candles for general use around the house, but hey, if that Pumpkin Spice candle makes you think of the Witches New Year, burn that baby on your altar! No harm in using everyday objects to assist in your special day ceremonies. Goddess reads the intention on your heart. (Just make sure to clear and clear any tools you use that crossover the line from "mundane" to "Magickal" before and after use! Hygiene of all sorts is important!)
Put it on the calendar! – Most people have a calendar of some sort these days. Use yours to your advantage! Schedule time in the future for your practices, and it will help to prevent the feeling of overwhelm that often happens when we look over our to-do lists. And then, (this is the important part!) don't skip your appointment with your spiritual practice! You wouldn't skip your doctor's appointment or that meeting with an important client, so don't treat yourself and your practice with any less respect! As an example, I have two hours blocked out on my family's calendar on Wednesday evening for my own personal Samhain ritual. It's going to be a late-night for me, but that's a price I'm happy to pay every once and a while. I've made it clear to my family that's My Time, and that is why we scheduled time together prior to that. We'll go trick or treating with my daughter, and then we'll come home, spend some time together, and then it's My Time, left to my own designs away from the rest of them. I've also got a short block of time on Tuesday evening, between dinner and bedtime, to finish any last-minute setup that I feel I want to do, so I don't have to stress out about getting it all ready on Wednesday. Planning for your practice also means that you have to build in time in your life to prepare for it. Those big rituals don't happen overnight, you know, they take MONTHS of planning! Since I got a sort of late start on my Samhain prep this year, I'll be keeping it simple, and personal, and all the more sacred for it.
Pick one or two things that are important – Maybe your Samhain plans don't involve a formal ritual, maybe they do. Perhaps spending time talking with your ancestors is more important than spell-working for you. Whatever your focus is, keep your FOCUS! Think of it as a big family meal. You *could* make a ham, and a beef roast, and a turkey, as well as seven sides, and five desserts. But who could reasonably digest all that in one sitting? Unless your family dinners last for three days, I'd highly recommend picking what the most important elements of the HolyDay are for you, and focus on that! You don't have to do it all, you can just do what's best and the highest priority for you.
Wear what makes you feel magickal, but also what makes you feel good – Confession time: If my boss and office dress code would allow it, I would absolutely wear a fabulous witch hat all season long. That first Autumn wind blows, and the Season of the Witch has begun for me. Also, anything Pumpkin Spice… I'm totes a Basic Witch 😉 And proud of it! But even when it's not "Black Hat" season, I still wear something that makes me feel magickal, or closer to Goddess. I have a large collection of jewelry that is what one of my friends endearingly refers to as "low-key Goddess in the abstract". I love wearing things that have a good vibe for me, or something that is maybe a little more subtle, but that I know its true meaning. Ultimately, I don't wear those things as a sort of talisman for anyone else but myself. I have a necklace that is a dragon holding a star. To the casual viewer, it's a dragon, holding a star. To those in the know, it's a dragon wrapped around a pentacle. To me, it's an animal totem that I can feel the weight of right against my heart. When I do rituals, I have a couple of certain dresses that I love to wear, because they help me to feel the part of the Priestess that I'm training to become. I have cloaks, in a wide range of colors, weights, and lengths, because they give me that same feeling. Yet, I've also done ritual work in fluffy socks and PJ pants, because it was snowing outside, and being warm was more important to me than the feel of floaty skirts. It's a silly thing, perhaps, but at the end of the day, whatever makes you feel closer to your power, and to Goddess, is what you should go with. It's all about YOU and how you feel!
The Grocery Store can be your friend – Don't think you need to seek out the closest occult shop to supply your cabinet and stock your shelves. I love a good little occult store just as much as the next gal, but at the same time, I'm working within the confines of a family budget, and I can't really justify a $200 cauldron as a "family expense" in good conscience 😉 Instead, I use herbs primarily found in my grocery store, which already come in great little glass bottles, and are much easier to source on the regular. When I'm looking for a specialty item or a specific herb, I reach out to the local shops or Kimberly at MotherHouse to see what they might have or recommend if what I'm trying to find is too cost-prohibitive at the time. I've made wonderful finds for some of my items in my local craft and thrift shops, and I'm one of those insanely crafty people who can look at something and think "that's nice, but how can I make it mine?" Is there something, in particular, you're really wanting to splurge on? Put your money there, and just go buy some basil from the produce department. It's all coming from the same Mother Earth. 😉
It's not all about the candy corn and costumes – Keep in mind that this is an ancient HolyDay, and it was only in the last decade or so that we even knew what a Pumpkin Spice Latte was! This is the perfect time of year for keeping in touch with people who have crossed over. Put together a few mementos or photos of people you knew and loved, or those who are your ancestors, and remember that this is a time to honor, connect, and commune with your Beloved Dead. And hey, if Aunt Betsy REALLY wants that candy corn on her altar, then maybe it's a little bit about the candy corn 😉
The moral of the story is, don't let the stress of "oh my Goddess, it's almost Samhain and I haven't done ANYTHING" get to you. There are as many ways to celebrate and feel closer to your ancestors and goddesses as there are stars in the sky! And you don't need all of them at once to really celebrate.
Are you looking for a community to join with on Samhain? Kimberly is hosting a live ritual inside the MotherHouse Temple on Wednesday evening. For more information, or to register and join us, go here!